Bro. Dalton Adger
Pastor
Dalton Adger has served as Pastor at First Baptist Church since August 2023.
Bro. Dalton received the Bachelor of Arts in Christian Studies degree with Cum Laude honors in 2014 from Louisiana College in Pineville, LA. He is currently pursuing the Master of Divinity degree from Grace Theological Seminary in Conway, AR.
From January 2021 to August 2023, he served as Associate Pastor at First Baptist Church in Eunice, LA and as the Director of the Baptist Collegiate Ministry of LSU – Eunice in Eunice, LA. He previously served as Associate Pastor at First Baptist Church in Pollock, LA from August 2014 to January 2021.
Bro. Dalton and his wife, Tori were married on July 28, 2018. Together they have three children: Llewyn James (4), Anna Cathryn (3), and Eloise Joy (1).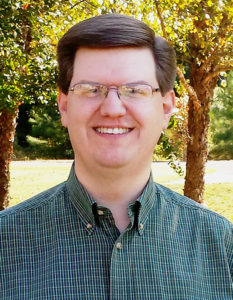 Dr. Bryan Bolton
Minister of Music and Children
Bryan Bolton has served as Minister of Music at First Baptist Church since January 2010 and as Children's Minister since April 2013. In addition to his responsibilities at the church, Bro. Bryan serves as the Association Music Director for the Harmony Baptist Association in Pine Bluff, AR, after serving in the same capacity for the Three Forks Baptist Association in Hazard, KY.
He has participated in several community programs as well as being a member of the Pine Bluff Community Band, where he plays the French Horn. He is also an active singer and instrumentalist of the Arkansas Master'Singers, a combined chorus comprised of ministers of music, music teachers, accompanists, and staff members from Southern Baptist churches across Arkansas.
Bro. Bryan is originally from Arkadelphia, AR and holds a Bachelor of Music degree from Ouachita Baptist University (Arkadelphia, AR), a Master of Music in Church Music degree from New Orleans Baptist Theological Seminary (New Orleans, LA), and a Doctor of Educational Ministry degree in
Christian Worship from The Southern Baptist Theological Seminary (Louisville, KY).
Bro. Bryan has previously served Southern Baptist churches in Arkansas, Louisiana, Missouri, and Kentucky. Prior to coming back to Arkansas, he was Assistant Professor of Music at Alice Lloyd College (Pippa Passes, KY) and served from 2007-2009 as the director of the college choir, The Voices of Appalachia.
Bro. Bryan is married to the former Erin Berry of Carlisle, AR. They have two children: Kaitlyn and Keith.