Rev. Ken Thornton
Pastor
Ken Thornton is the Pastor of the First Baptist Church of Pine Bluff, Arkansas, where he has served since January 2013. He has also served for 22 years in the United States Air Force as both an Active Duty and Reserve member. Retiring as a Lieutenant Colonel, he is a veteran of ten duty station assignments and three war-time deployments.
He enjoys spending time with family and friends, reading, watching football and baseball, running, and traveling. His favorite Bible verse is Proverbs 3:5-6, "Trust in the Lord with all thine heart; and lean not unto thine own understanding. In all thy ways acknowledge him, and he shall direct thy paths."
Pastor Thornton received a Bachelor of Arts degree in 1982 from Central Baptist College in Conway, Arkansas, a Master of Divinity degree in 1989 from Mid-America Baptist Theological Seminary in Memphis, Tennessee, completed a full-year residency in Clinical Pastoral Education in 2006 at the Wilford Hall Medical Center in San Antonio, Texas, and a Master of Arts in Management and Leadership degree in 2007 from Webster University in St. Louis, Missouri.
Ken is a native Mississippian, and is married to the former Ann Johnson of England, Arkansas. They are the proud parents of two sons and grandparents of four amazing and beautiful grandchildren.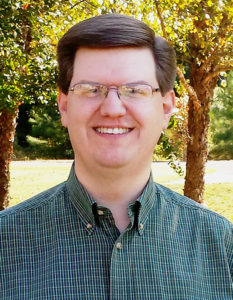 Dr. Bryan Bolton
Minister of Music and Children
Bryan Bolton has served as Minister of Music at First Baptist Church since January 2010 and as Children's Minister since April 2013. In addition to his responsibilities at the church, Bro. Bryan serves as the Association Music Director for the Harmony Baptist Association in Pine Bluff, AR, after serving in the same capacity for the Three Forks Baptist Association in Hazard, KY.
He has participated in several community programs as well as being a member of the Pine Bluff Community Band, where he plays the French Horn. He is also an active singer and instrumentalist of the Arkansas Master'Singers, a combined chorus comprised of ministers of music, music teachers, accompanists, and staff members from Southern Baptist churches across Arkansas.
Bro. Bryan is originally from Arkadelphia, AR and holds a Bachelor of Music degree from Ouachita Baptist University (Arkadelphia, AR), a Master of Music in Church Music degree from New Orleans Baptist Theological Seminary (New Orleans, LA), and a Doctor of Educational Ministry
degree
in Christian Worship from The Southern Baptist Theological Seminary (Louisville, KY).
Bro. Bryan has previously served Southern Baptist churches in Arkansas, Louisiana, Missouri, and Kentucky. Prior to coming back to Arkansas, he was Assistant Professor of Music at Alice Lloyd College (Pippa Passes, KY) and served from 2007-2009 as the director of the college choir, The Voices of Appalachia.
Bro. Bryan is married to the former Erin Berry of Carlisle, AR. They have two children: Kaitlyn and Keith.