Good Friday Worship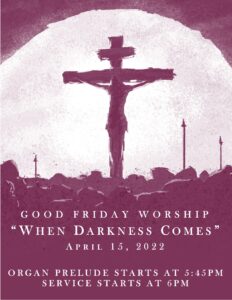 "When Darkness Comes"
Good Friday, April 15, 2022 at 6:00 pm
The Sanctuary Choir and guest instrumentalists will present "When Darkness Comes" for our annual Good Friday Worship.
We will be led through the journey of darkness and reflect deeply on the sufferings and death of Christ for us and our salvation, and then commemorate the death of Christ at the Lord's Table.
Bring your heart in a spirit of reflection, meditation, repentance and gratitude as we gather in the Sanctuary at 6:00 pm. for this moving time of worship. Then leave in silence on that night – to return on Easter Sunday to the glad hallelujahs of the glorious resurrection! An organ prelude will begin at 5:45 pm.